Isla Mujeres, the island next to Hotel Dos Playas. of Hotel Dos Playas Faranda Cancún
Blog Hotel in Cancun
Isla Mujeres, the island next to Hotel Dos Playas.
Faranda Posts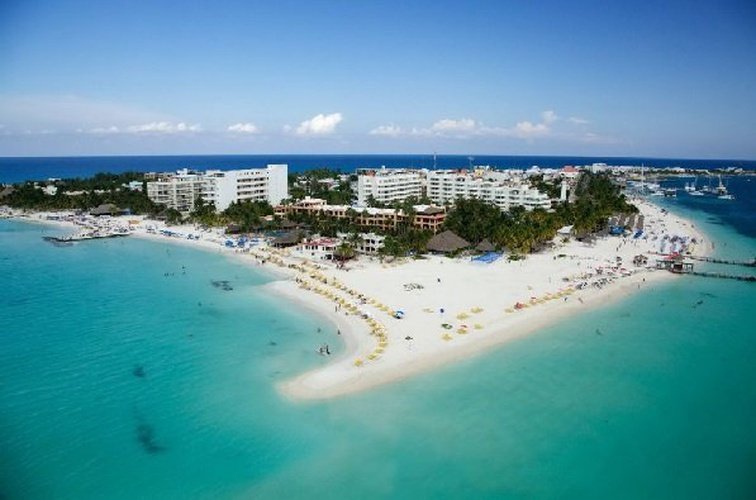 Isla Mujeres is just 15 minutes away from Cancun by ferry and is heaven on earth. Time hasn't passed by its turquoise beaches, cliffs, or picturesque streets full of delicious restaurants and colorful handcrafts.
The adventure starts at the ferry, as you will have a privileged view of the Caribbean Sea and its iconic shades of blue. The fresh breeze will be the perfect start for a relaxing day at the beach!
There are many ways of exploring this 7-km-long island. But the most popular is by golf cart as they are rented by the hour or for the whole day. Now that you are all set to explore Isla Mujeres, you can't miss these activities:
-Relax and swim at Playa Norte. This beach is considered one of the best in the world, with fine white sand and tranquil blue water. To enjoy a day here, you'll need a swimsuit and reef-safe sunblock! Many bars and restaurants rent umbrellas and beach chairs until the evening.
-Snorkel or dive and witness the biodiversity of Mexico: coral reefs, eye-catching fish banks, and even sharks await at sea.
-Explore Punta Sur. This park offers a different view of the Caribbean as it is the highest point in Isla Mujeres. As the name suggests, this park locates in the southern part of the island and will be a favorite among Mayan culture enthusiasts. Sculptures depicting this civilization are scattered throughout trails surrounded by cliffs and the sea. But most importantly, the remains of a temple can be seen here. The Mayans built this religious site to honor Ixchel, the goddess of love, fertility, and the moon. A great way to end a day trip to Isla Mujeres!
Are you planning a trip to Cancun and want to visit Isla Mujeres? Hotel Dos Playas is a great option! Enjoy an All-Inclusive stay by the beach with access to Mexican and Thai restaurants, bars, buffet and snacks, five pools, water park and next to Playa Tortugas ferry station.
Visit our website and book
now a wonderful vacation.
Back